Artist houses: when artwork is imbued with the spirit of its surroundings
Lise Benoît, writer, and Claude Benoît, museologist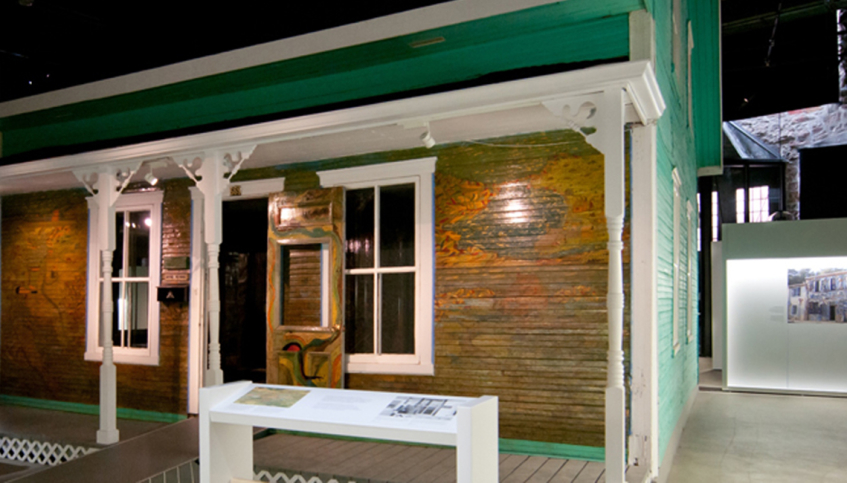 Artist house museums are full of life. Places for exhibition, contemplation, and creation, they tell of the inspiration and work of history-making artists of Québec. 
Of nature and art
Maison et atelier Rodolphe-Duguay à Nicolet
Located on the banks of the Nicolet River, the birthplace and artist studio of painter-printmaker Rodolphe Duguay (1891-1973) is open to the public. Shaded by hundred-year-old trees, this jewel of Québecois heritage witnessed the family life of the artist and years spent with his spouse, the journalist and poet Jeanne L'Archevêque. Forty years of creation are therefore unveiled.
Next door to the neoclassically inspired residence is the Ermitage, a space with a design based on the Parisian studio inhabited by Duguay in the 1920s. The surrounding country landscape, with echoes of water flowing below and a wealth of colours, seems to have been infused into the painter's canvases and into the writer's pages. Perhaps here lies the secret source of their art…
Once upon a time, in a beautiful home… 
Maison Samuel-Bédard at Musée Louis-Hémon 
In 1912, the writer Louis Hémon (1880-1913), originally from Brittany, travelled to Péribonka in Lac-Saint-Jean, where he was hired as a farmhand by the hospitable farmer Samuel Bédard. Hémon then took the opportunity to observe the Bédard family, his co-workers, and the inhabitants of the little village. In the spring of 1913, while in Montréal, he wrote a tragic love story, entitled Maria Chapdelaine. The novel, inspired by Péribonka and its people, was published posthumously in 1916, and enjoyed great success. 
Today, Samuel Bédard's residence offers visitors an immersion into the simple and stark lifestyle that was typical of the colonial period. An on-site contemporary pavilion houses, among other things, an exhibition on Louis Hémon and his work. The delightful setting retraces the genesis of Hémon's art, which has contributed to Québec's renown in France and elsewhere.
Between tradition and innovation
Domaine Ozias-Leduc and Maison Paul-Émile Borduas, 
under the protection of Musée des beaux-arts de Mont-Saint-Hilaire
Ozias Leduc (1864-1955) was born in Saint-Hilaire, a village he would remain attached to his entire life. While creating the numerous religious paintings, murals, and church decorations that characterize his artistic production, he also drew inspiration from his environment to create his famous portraits, still lifes, and landscape paintings. Today, Leduc's childhood home showcases the artwork and philosophy of the master artist. Nestled in a large orchard, it evokes the warmth of daily life on the farm and the setting in which the artist flourished.
In 1922, Leduc took painter Paul-Émile Borduas (1905-1960) under his wing, as an apprentice. Also from Saint-Hilaire, Borduas had an avant-garde residence built in 1945, where he created a large body of artwork, and also wrote a famous manifesto. A reflection of the completely free and unconventional nature of his paintings, the Refus global denounced the obscurantism of society at the time.
Thanks to major donations, the Musée des beaux-arts de Mont-Saint-Hilaire became the guardian of these two exceptional residences.
A collector's item
Maison Arthur-Villeneuve at La Pulperie de Chicoutimi
A mysterious voice is said to have prompted self-taught painter and barber Arthur Villeneuve (1910-1990) to cover the interior and exterior of his home with paintings in naive, picturesque, and surrealist styles. Upon completion of his work, he decided to invite the public in, but with mixed reactions. Some saw it as an affront to the urban aesthetic; others saw it as a tourist attraction of undeniable value.
The residence was moved and integrated into the heart of a regional museum, La Pulperie de Chicoutimi. An exhibition centred around this main focal point presents Villeneuve's career and many of his paintings, in addition to interactive stations and a virtual visit of his home. The raw talent, personal style, and amazing imagination of the artist – creator of nearly 4000 paintings and 2000 drawings – are wonderfully showcased. This display constitutes the well-earned acknowledgement of Villeneuve's unique place in 20th-century Québecois art history. 
A studio inside a bank
Guido Molinari's legacy in Montréal 
In 1964, Guido Molinari (1933-2004) acquired a bank in Hochelaga-Maisonneuve, the neighbourhood of his childhood. He set up his living space upstairs and transformed the ground floor into a studio in which his art attained its full potential.
Before even reaching his thirties, the painter, author, and gallery owner achieved recognition both nationally and internationally. In his studio, he welcomed friends and students, who came to admire his collections of artwork by master and emerging artists.
At the end of his life, he left all of his possessions to his eponymous Foundation. The bank building thereafter became a centre for exhibitions, documentation, conferences, diffusion, and creation that greatly encourages emerging artists. Through his creations, and those of his peers and students that are presented at the Foundation, this leader in geometric abstraction continues to convey his passion to all those who, like himself, are "crazy about art."