Explore Aboriginal Know-How
Laurence Lainé, Communication & Marketing Officer, Québec Aboriginal Tourism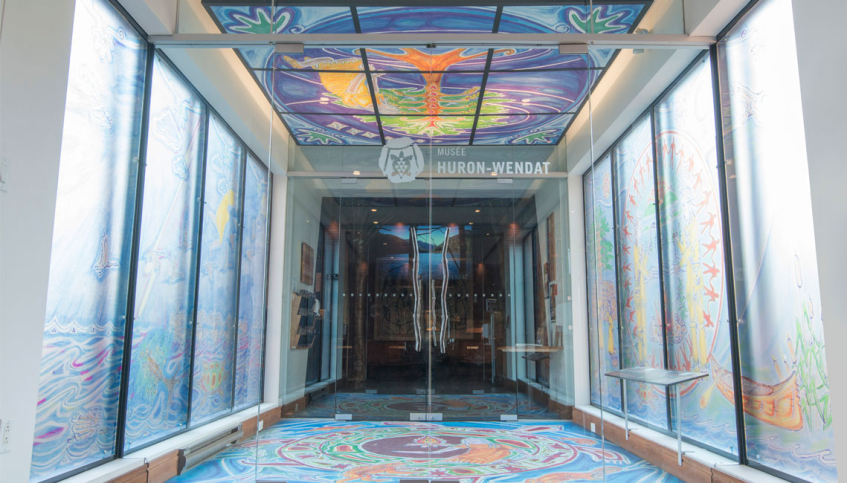 Shaped over thousands of years and transmitted from one generation to the next, Aboriginal culture contributes to Québec's unique identity. Québec Aboriginal Tourism therefore invites you to discover 6 institutions, guardians of the collective memory of First Nations and Inuit peoples. A museological immersion ranging from the traditional to the modern!
Aanischaaukamikw Cree Cultural Institute, an evolving culture!
Wachiya! Located in Oujé-Bougoumou, a village recognized by the United Nations as a remarkable example of community development, the Aanischaaukamikw Cree Cultural Institute is a centre devoted to the exploration and teaching of Cree culture.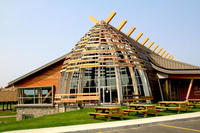 Come admire thousand-year-old artifacts that illustrate the rich history of the Cree people and their connection with the earth. Venture into the library and archives dedicated to the preservation of our history…
In a stellar interactive setting, the Aanischaaukamikw offers mobile apps to enrich your visit. It is also known for its distance learning programs and online collections, providing access to artifacts, multimedia files and documents. Regardless of where you are in the world, visit the Institute, thanks to its virtual exhibitions.
La Maison amérindienne, an expression forum for all cultures
As a nationally recognized historic site for maple products, La Maison amérindienne's mission is to spread knowledge about First Nations peoples. An authentic environment for exchanges, sharing and togetherness, it offers museological, environmental and gastronomical activities.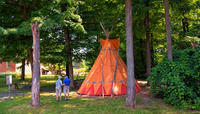 In addition to the annual exhibition program, plenty of activities are organized as the months go by, including guided tours, creation workshops, conferences, gastronomical tastings, Amerindian meals during the sugaring off season, walks on interpretive trails, visits to the artisanal boutique, and much more!
From May 26 to September 30, 2018, contemplate works by renowned artist, Jean-Paul Riopelle, inspired by his interactions with different Aboriginal peoples. Take this privileged opportunity to discover or rediscover the breadth of artwork created by this multi-talented artist.
Musée amérindien de Mashteuiatsh just got a make-over!

Discover Pekuakamiulnuatsh culture through exhibitions and activities at Musée amérindien. The museum has an influential role in transmitting the culture of the only Aboriginal community in the Saguenay-Lac-Saint-Jean region. All year long, visit exhibitions showcasing the history and evolution of the Ilnuatsh throughout the centuries, while interacting with a culture that is at once exceptional and living!
Over the past year, the museum facility has been revitalized thanks to significant investments. Experience its new public spaces, enriched by interactive terminals and exceptional sound effects. We can safely bet that many years of cultural exchange are on the horizon!
Musée des Abénakis: an unusual exhibition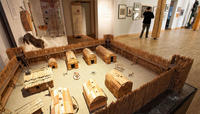 Situated 10 km from Lake Saint-Pierre, on the banks of the Saint-François River, the first Aboriginal museum in Québec offers you a captivating cultural experience. In fact, the museum presents exhibitions with Aboriginal themes, and organizes cultural and educational discovery activities.
L'Indien au-delà d'Hollywood is an exhibition resulting from over a year of work by the team at the Musée des Abénakis. Discover Aboriginal cultural diversity, which is vastly different from the iconography created particularly by Hollywood. The exhibition proposes that we come to a realization of and reinvent our rapport with Aboriginal representation. The visit creates a space for togetherness and exchanges, through facilitating comprehension of the current realities of First Nations peoples. From June 29, 2018 to December 22, 2019.
Huron-Wendat Museum: already 10 years old!
In the heart of Old-Wendake, the Huron-Wendat Museum offers pedagogical activities, thematic tours and audioguides in six languages. Succumb to the charms of the rich Huron-Wendat culture and heritage, without forgetting those of other First Nations peoples!
On display until the end of 2018, Genuineness, Respect and Excellence: 10 Years of Exhibitions at the Huron-Wendat Museum, paves the way to a discovery – or rediscovery – of twenty-some exhibitions and the role the Museum has played in its 10-year history. A promoter of artists, platform for expression, representative of First Nations peoples, and vital diffuser of its community history, Huron-Wendat Museum illuminates Aboriginal realities, from yesterday to today.
Shaputuan Museum and its multiple vocations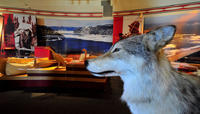 Opened in 1998, the Shaputuan Museum of Uashat's mission is to share Innu culture and facilitate dialogue between Aboriginals and non-Aboriginals, through intercultural exchanges and public school initiatives. In addition, the Museum highly values social interaction and encourages emerging Innu artists to share their art through various temporary exhibitions.
The Museum houses permanent exhibition, The Progress of the Seasons in Innu Territory, centred around the traditional lifestyle of the Innu over the course of the seasons; and a collection of about a hundred objects from the past. When you visit, immerse yourself into a 360-degree projection presenting traditional activities linked to the four seasons. Please note that the Innu Tshitshuk summer solstice, which takes place on June 21, is among the most popular activities.
A complete listing of members offering authentic Aboriginal experiences in the arts and culture can be found at www.quebecaboriginal.com/arts-and-culture.